The aim of the IMP Doctoral Consortium is to create a forum for in-depth, informal discussions between PhD students interested in the IMP approach and experienced IMP researchers. The Consortium faculty will include Catherin Sutton-Brady and Sharon Purchase.
Conference and Doctoral Colloquium Organising Committee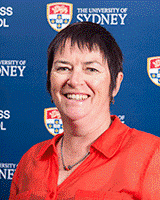 Catherine Sutton-Brady
Associate Professor – Deputy Head of Discipline at The University of Sydney Business School
catherine.suttonbrady@sydney.edu.au
Catherine began her career in industry, working with a large multinational company in Europe. Since her return to academia, she has taught extensively at undergraduate and postgraduate level, both locally and overseas. Her teaching is predominantly in international marketing and business to business marketing. She values innovation in teaching and constantly strives to improve her courses and maintain student interest and enthusiasm in learning. Her research interests also lie in the area of business to business marketing and international marketing. She has published in these areas as well as in the area of higher education and assessment.

Sharon Purchase
Professor – Deputy Head of School (Research) at the University of Western Australia Business School
sharon.purchase@uwa.edu.au
Sharon worked for 13 years within the engineering sector for both private and public organizations. Sharon has published academic papers in international journal and leading conferences in the area of business networks and relationships. She has been invited to join 4 editorial boards and has been voted onto the membership committee for the Australian and New Zealand Marketing Academy (2007 – 2013). At the same time, she hasn't lost her roots with industry and has published commercial pieces with CIPS (Chartered Institute of Purchasing) and other representative organizations.
About the Doctoral Colloquium
The Doctoral Colloquium will start with a plenary session, where key aspects of the IMP research tradition will be presented. Doctoral students' project presentations and discussions will follow in small groups comprising of four students, with two senior researchers assigned as discussants. Students will have 30 minutes to present their work with 30 minutes for feedback and discussion.
PhD students interested in participating in the IMP Doctoral Consortium should submit a short version (max. 1500 words) of their PhD proposal February 28th 2019 to Catherine Sutton-Brady: catherine.suttonbrady@sydney.edu.au.
All submissions should include the following aspects:
Research area
Overall research problem
Use of theory and methodology
Description of (proposed) empirical study – if applicable.
This is a competitive process and numbers are limited to 16. Your proposal will be accessed by two members of faculty. If accepted you will be required to submit a full proposal (up to 20 pages) by June 1st 2019. This proposal will be reviewed by the discussants assigned to your session and feedback will be provided at the consortium.